A new version of MobiDB Database Designer with the ability to generate accumulated balance reports has been published recently.

Perpetuum Software announces the availability of a new version of the Android and Windows 10 application designed to create complex relational databases for small and medium businesses that is now able to generate accumulated balance reports.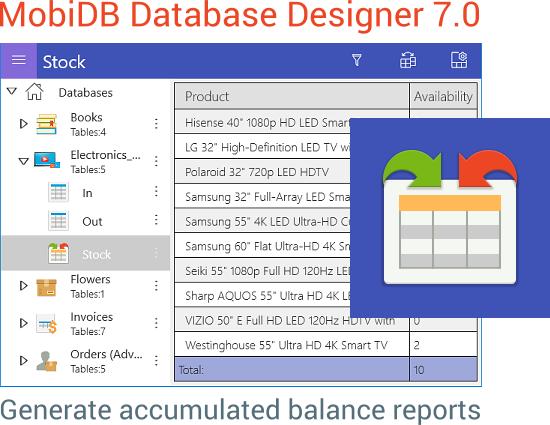 Keeping some business information in a mobile database is great. Nevertheless business demands are not just in keeping and tracking some information in a database, business users want to get some aggregated information, such as accounting balance as of the specific date, quantity of product items in stock, etc. Now they can create these simple reports in MobiDB Database Designer.

Accumulated balance reports are easy to set up, users just need to specify a table and a field they want to add to a balance and a table and a field they want to deduct – the aggregated value will be displayed in a table. The report is updated automatically if new records are added to the specified tables. A sample database that demonstrates this functionality is added to the app, so users can evaluate this new feature.

More information on how to design accumulated balance reports is available here:
http://helpcenter.perpetuumsoft.com/kb/a633/accumulated-balance.aspx

MobiDB Database Designer for Android now completely supports Android 7.

MobiDB Database Designer for Windows provides a new navigation panel (similar to the Android app), that lets users navigate between the tables and even different databases with just a couple of clicks.

Minor fixes and improvements make the app even more stable and pleasant to use.

If you run a small or medium business and value mobility and time – MobiDB Database Designer is a good fit for you! It's easy to use and intuitive and will help you arrange and keep track of your data, as well as generate simple reports.